Geek Mental Help Week - About 'Social Pain'
This post was written 9 years ago.
Wed, 29 Oct 2014
In case you've been directed here from the GeekMentalHelp site, please note: I have in the meantime written a second post, about depression. In that article, I mention some resources and strategies that helped me.
This week's
"Geek Mental Help Week"
has had quite a strange, and profound, effect on me. I have to admit this, even though I had previously decided I would try and not pay much attention to it at all; because I somewhat agree with a post on that very site, stating that campaigns to raise awareness can be a
double-edged sword
and it can be a bit overwhelming. - But as I'd expected, I kept being drawn to the site, and I am now glad I read the articles on there. What made the biggest impression on me were the posts that people wrote about their experiences with mental illness. There is such an openness and honesty. And I feel I want to be there as a 'listener', a witness to the trauma people went through, which in some cases was very grave.
And then I'd also started to pen an article for it. For two weeks I collected a lot of thoughts, quotes, resources. Next, I ordered them and started to string the whole thing into a narrative. I sat the whole of Sunday in front of my computer. I had tried to write this 'witty' article about all I knew about depression. But I made a mistake. I thought I could take myself out of it, write about my experiences objectively, from a bird's eye's view. It didn't work, and I felt very disillusioned and frustrated.
Instead I am publishing the below for Geek Mental Help Week. I wrote it about a year ago, and while I put it on my blog, I never tweeted about it.
Perhaps this is my way of saying "Here I am, and this is what I've struggled with and sometimes still do. If it is similar for you, you are not the only one."
I think for me, and many others, the web has always been about connecting, too. You can reach out to others in a way that was not previously possible. For me, this week has been about exactly that in the end. The likes of Twitter, Facebook, Instagram, can easily make us forget that we can communicate in 'long form', too, and how liberating and comforting that can be.
I also felt reminded of a post I had read during the summer holidays,
Everyone I know is broken-hearted
by Josh Ellis. I found the last three paragraphs quite moving. "I don't believe anymore that the answer lies in more or better tech, or even awareness. I think the only thing that can save us is
us
. I think we need to find ways to tribe up again, to find each other and put our arms around each other and make that charm against the dark." Perhaps initiatives like this can be a step towards that.
Here is my post from a year ago:
(- I felt tempted to edit this and move things around, it might be a bit clunky; but after this week's difficulties with writing I am just leaving it as I wrote it back then)
About loneliness and becoming an apprentice bodhisattva
(from 24 November 2013)
Quite recently, I started re-reading parts of a book by
Kamalamani
. The book is called "Meditating with Character" but is about much more than meditation! Yesterday I hit on a few pages that I felt the strong urge to photograph and tweet, just because I find them so relevant to the current state of (world) affairs. I am posting them here instead.
Then today I saw a link to an article called
"Life of solitude: A loneliness crisis is looming"
. This article is very strongly related to the message about connectedness in what I read yesterday. Furthermore, it is about a topic that is very close to my heart: Loneliness, and in a wider context, something I would call "social pain".
Social pain is something I have been thinking about quite a lot in recent years. Partly, because of the role it has played in my own life. But also because I increasingly realise how much it (or fear of it) shapes the way we live, the structure of groups, organisations and so on. And last but not least, because of its seeming prevalence in today's 'connected' age.
I think the main insight for me is that social pain can be just as excruciating - and actually has a strong physical component - as what we call physical pain. I have sometimes had this thought: The pain of pushing two children into this world without pain relief, and smashing both bones in my lower leg (on a separate occasion!), have not come near the social pain I have felt in my life. But then that comparison is flawed. Because that physical pain was limited to brief periods of time, of course. So really you would have to ask, would living with constant pain be preferable to social isolation? That isn't a good comparison either, as constant pain in itself has great potential to make you depressed. A recurring pain, cancer with chance of survival, loss of a limb? - It is difficult to answer. I do think anyhow that social isolation ranks pretty high on the list of undesirable and painful things.
As
Brené Brown
puts it, "We are hard-wired for connectedness". In other ages, we were born into structures that provided that connection (but had of course all sorts of other problems we don't have these days). Now, it is not so clear cut. Often we have to create our communities ourselves, and in many cases we might feel a stronger connection with people in those groups than those we were born into. But we have to find or create them first, and the way there can be full of anxiety and provide some pain in itself. Yet I believe it is always worth to persist in this.
I have below written down something about my own experiences of isolation and rejection. I did not do this to get your sympathy. It is rather to illustrate what effects an experience like that can have. Perhaps mostly, to say: Look after your children. And I could add: Look after yourself and each other, because we really are all interconnected.
As far as I am concerned, I am actually genuinely happy with where I am now, so in a way, I can now see what happened to me as a necessary step to this point. - And then of course I am grateful for all the good things that have happened, and the people I've met. And for the plasticity of the brain.. - Still, I would never wish upon my children the isolation I felt. I could not bear knowing them in a situation like that. (I think my mother was simply not aware of it. Moreover she has had more trauma in
her
past than I've ever had.)
Now I just feel I want to move on from all that, and instead become an apprentice bodhisattva as described in the pages below.
So, I leave you with this excerpt from Kamalamani's book, and below that, the thing I wrote about my early years (but really, don't feel compelled to read that!)
From Kamalamani's book "Meditating with Character" - Chapter 4 - Why embodiment matters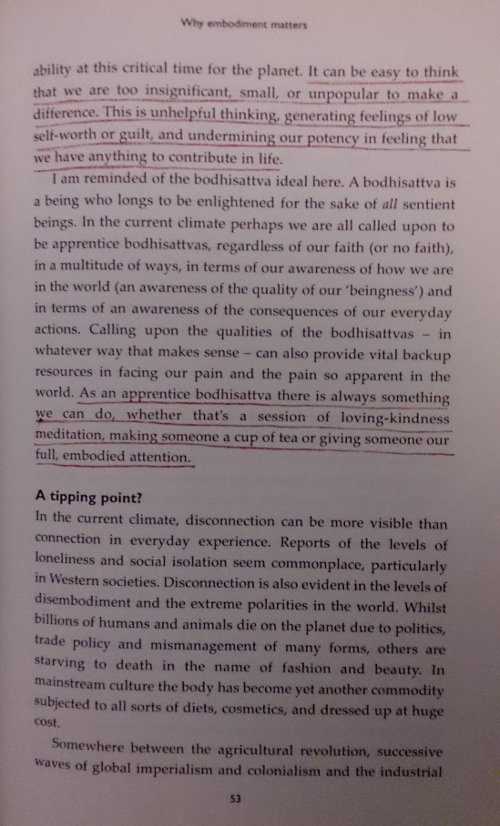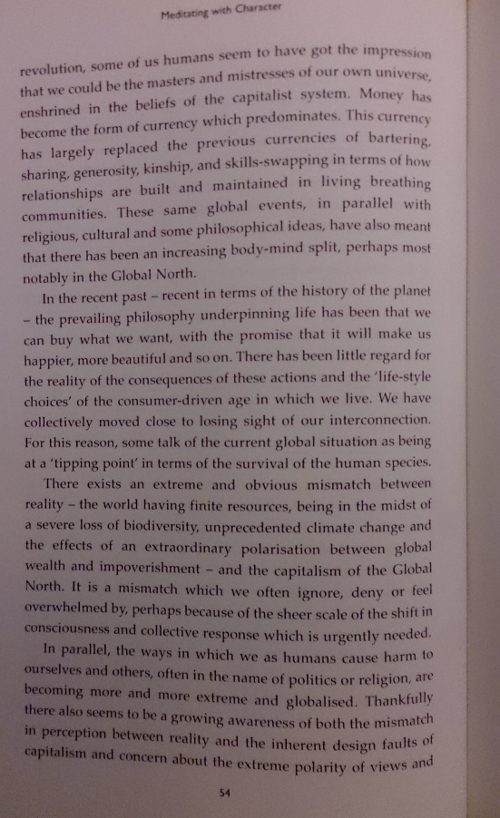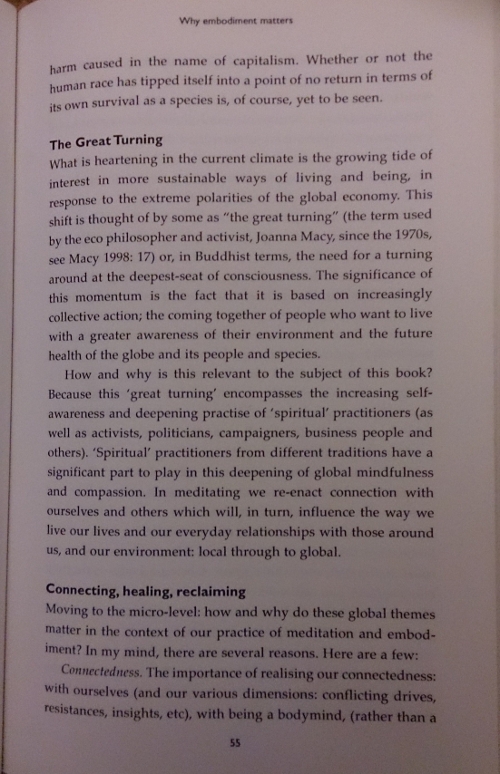 My story (part of it, by far not all)
One line that struck me in the article about loneliness was: "Inside every lonely adult is a kid eating lunch by herself on a bench." I am not a lonely adult anymore, but I was that kid. When I was 5 my family moved to Paris, and I was sent to a nursery there for a year. It's a commonly accepted notion that children pick up a new language quite naturally at that age, but I didn't. I can't really explain the reasons, I guess I was just quite shy. I was also - probably still am - quite sensitive and an introvert.
It did not take long for the French children to move from initial strong interest in the newcomer, to finding it really odd that I could not understand them. They also bullied me on occasion - stepping on my toes, putting sand in my mouth
*
. But I also remember a girl who held my hand and was friendly to me, and how immensely comforting that was. Still, the overwhelming feeling of those days was that of isolation. An extreme isolation. I could not put a name to it then of course, but it was definitely painful. I ended up developing a survival strategy. That strategy consisted in completely retreating into myself, to "live in my head". I also completely stopped talking for the hours I was in the nursery. (I did not have the right language to talk with!)
When people have psychological problems, often it is partly because of survival strategies that are not helpful anymore. Those strategies have started to get in the way of a healthier behaviour and attitude. It took me an incredibly long time to realise that in a situation where I ended up feeling excluded, it was often
me
who took the first step towards that exclusion. It was my old survival strategy of shutting everything and everybody out that made me appear "weird". The shutting out happened as a reaction to the slightest sign of rejection or sometimes just apparent lack of interest. - The thing is I had never learned very well to read my "peers'" attitude towards me, because I was so isolated and did not interact with them very much. I did have my siblings, but those were people I already new!
Back in Germany, I was able to develop friendships, but often had difficulties with groups of people - to become integrated in a group. Then in my teenage years, a further difficulty presented itself. My beloved mum, at roughly the age I am now, was struggling with mental health. As one consequence, she often seemed to despise me. Any criticism was never put into words, but rather delivered as a turning away from me, of not paying attention and not talking. That way it was difficult to understand what was actually wrong with me. But from some strong reactions (silent disapproving glares in my direction mainly), I gathered: I must not appear clever. I must not praise myself, not say anything that could even be construed as self-praise. I must not be selfish and self-absorbed (the latter is pretty difficult, I can tell you, if you keep trying to find out what the heck is wrong with you!). Oh, and I must not talk so much! That was also difficult to achieve, because I was still very quiet at school, but then bursting to tell things at home. In fact, any kind of enthusiasm seemed to be kind of repulsive. While as a result of this episode I pretty much lost the ability to feel pride in the things I do, I am glad to say I never lost the ability to be enthusiastic
**
.
Possible 'costs' of all this: Many periods of depression from teenage years on, some prolonged and heavy. Various antidepressants over the course of a year - that is now 15 years ago, thankfully, and I've not needed them since, though often craved to go back. Two to three years of therapy - some in Germany, some here. The final year of therapy was
really
helpful by the way. Low confidence. For a long time, the belief that I was actually a bad and selfish person. - To be fair, the self-absorption is still pretty pronounced, although I might get better at that, too. It sometimes makes me sad to think how much better I could have used all that time and energy I lost. And yet, on the other side, I think it helps me to understand other people better, and that could be helpful in some way.
*
Oddly, I quite liked the boy who put sand in my mouth before and after the event. When my parents were looking for a baby name, I suggested "Stéphane" because I still 'fancied' that boy. I did get a brother a bit later, and he was called Stefan.
**
My mother is a lovely person, and I have far more to be grateful for than to complain about. She was very stressed and ill.
This post was written 9 years ago, which in internet time is really, really old. This means that what is written above, and the links contained within, may now be obsolete, inaccurate or wildly out of context, so please bear that in mind :)